Style and Technique
Basic, raw and stretching boundaries, Pat McNabb Martin leaves each composition to the viewer's discretion. Never over intellectualizing a painting she concerns herself with the canvas surface always experimenting to create new and unique marks. Each painting is an emergent field of color often laced with exotic fluorescent and metallic paints.  Her intuitive use of the canvas surface, texture and color saturates the viewer's eye allowing for personal interpretation.
Additional Background
Pat McNabb Martin is an accomplished art educator, filmmaker, graphic designer and manufacturer/designer of hand painted women's clothing and accessories.  For eighteen years she designed and built single family homes on spec in Southern CA., where she currently resides.  In 2002 she returned to painting full time.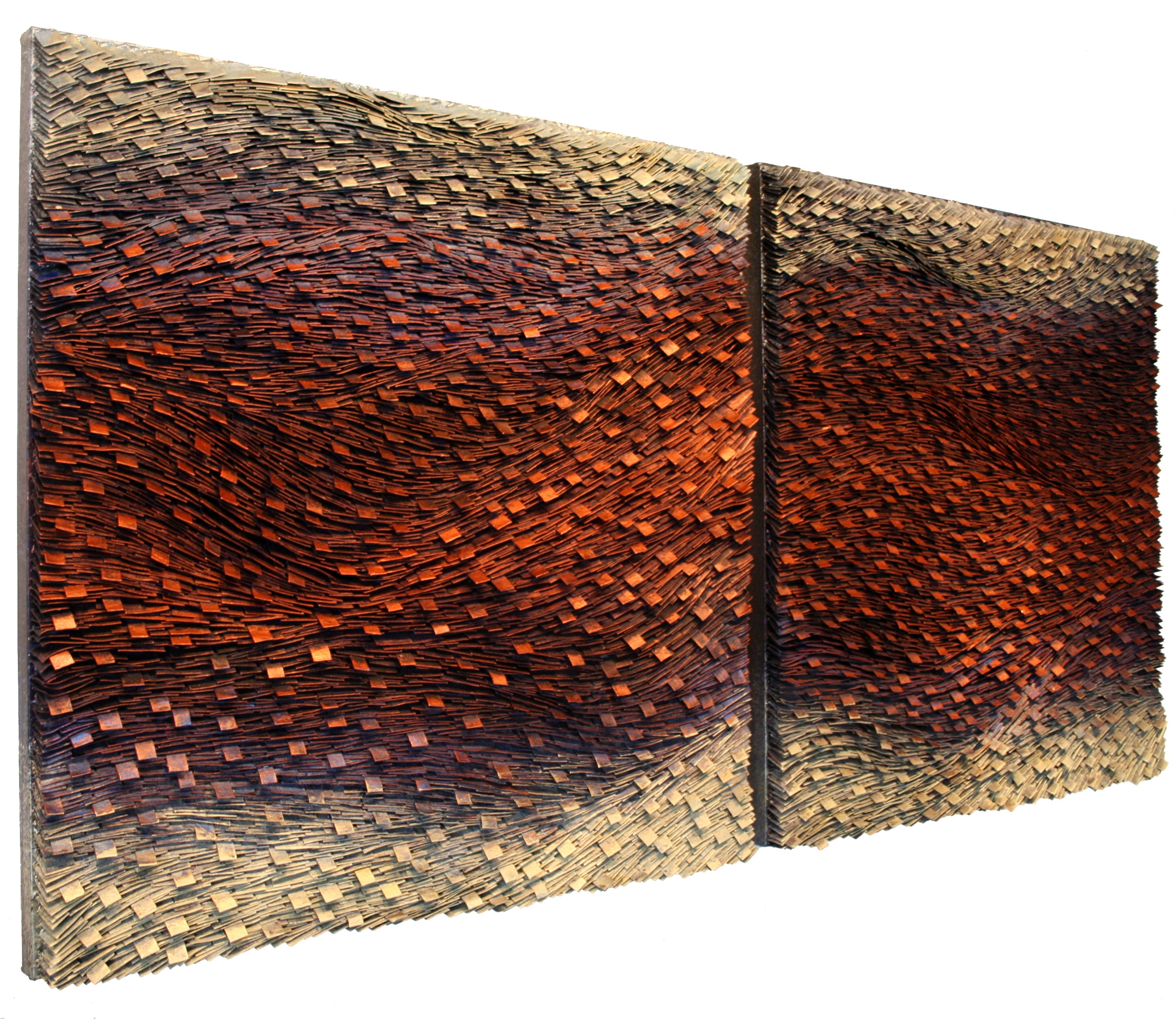 Galleries and Exhibitions
Whistler Contemporary Gallery, Whistler B.C. Canada
Solo Show June 2018, Avran Fine Art Gallery, Laguna Beach, CA
Avran Fine Art Gallery, Laguna Beach, CA
Art Palm Springs 2017, Palm Springs, CA
Alexander Salazar Fine Art, San Diego, CA
San Diego Art Fair 2012 – 2017, San Diego, CA
Evolution of Style Solo Show, MMCA Gallery, San Diego C.A.
William Merrill Gallery, Laguna Beach, CA.
Contemporary Fine Art Gallery, La Jolla, CA.
Paint in Motion Show, N.A.M.E. Gallery, Chicago, IL.
New Horizons Show, Chicago, IL
A.R.C. Galleries, Chicago, IL.
Illinois Artists Show, Center for the Visual Arts Gallery, Normal, IL.
Artmesia Gallery Invitational Show, Chicago, IL.
Chicago & Vicinity Show, Art Institute of Chicago, Chicago, IL.
North Carolina State University, Raleigh, N.C.
Corporate and Public Placements
Troutman Sanders Law Firm, Irvine, CA.
Participant Media and Film, L.A., CA.
Valley View Casino, Valley Center, CA.
Baker and McKenzie International Law Firm, Del Mar, CA.
Classic Apartments, Burbank, C.A.
Hasely Morrison Interiors, San Diego, CA.
Paramount Biosciences, LLC, San Diego, CA.
City of Oak Park, Oak Park, IL.
Borg-Warner Collection, Chicago, IL.
Private Collections
Francine Finn and Alex Hunter, San Diego, CA.
Terry McInnis, San Clemente, CA.
Jim and Jane Berk, Beverly Hills, CA.
Alex and Isabelle Bermudez, Pasadena, CA.
William Merrill and Paul Ecke, San Francisco, CA.
Dr. Louis McNabb, La Habra Heights, CA.
Alvin Morrison, San Diego, CA.
Jim Smith and Barry Crow, San Diego, CA.
George and Sally Shenas, San Diego, CA.
Robert and Elizabeth Elster, Laguna Beach, CA.
Gerard Michaud and Gerard Kleinsmith, San Diego, Palm Springs, CA.
Education
1977  Master of Fine Arts, School of the Art Institute of Chicago, Chicago, IL
1965  Bachelor of Fine Arts, Graphic Design, University of Illinois, Urbana, IL